Books We Love: It's Not About the Coffee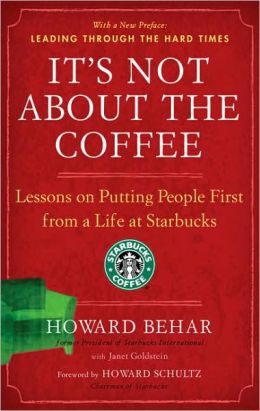 It's Not About the Coffee is the story of the world's most well-known coffee shop, told by former Starbucks executive Howard Behar. We were fortunate enough to meet Behar through SYPartners' consulting business — and he introduced us to Starbucks CEO Howard Schultz, who was looking to reinvent the iconic brand at a time when he felt it had strayed from its purpose
Through anecdotes from everyday and pivotal moments in Starbucks history — including stories of teams striving to work better together or managers doing their best to meet the needs of their teams — Behar illustrates that success in business is all about putting the care and development of people first. Behar's insights (captured in short form in his 10 Principles of Personal Leadership) can be scaled to the level of the organization, team, or individual. He offers actionable tips filtered from his experience, and ends each chapter with a helpful set of provocative questions.
These thoughtful reflections on achieving purpose, playing to people's strengths, and facing challenges are valuable to anyone aspiring to greatness. And, because we've seen them put into practice, we know they work.
Achieving purpose in our work
Like SYPartners, Behar shares the conviction that purpose should be simple and singular. Purpose is a function of knowing who you are. When you identify that and also where you want to go, you get rid of all the stuff that clutters your way.
"When our passions become clear, our strengths and goals come more sharply into focus," Behar says. To help achieve that clarity, he offers some helpful questions, to answer either as a team or an individual. For example:
"What's on your list that you don't want to do, or be, anymore?"
"Who around you has valuable lessons to offer? Who is inspiring you to go beyond your potential?"
"What would move you toward your goals right now? Are you doing it? Why not? Could you?"
Playing to people's strengths
Behar defines a business as "a group of volunteers who lease their creativity for the good of the organization."
For this model to work, roles must be fitted to individual strengths and aspirations. And all people — right down to the guy sweeping the floor — have to be given space to exercise their own skills and expertise, and to make the decisions appropriate to their roles.
Behar offers questions to help managers identify whether their work environment allows everyone on the team to perform at their best. Here are three:
"Do you know what matters and motivates your people as individuals, as a team? Find out. Find out more."
"Are you spending more time on tactics and the little stuff and not enough time on the big stuff — on goals, strategy, and people?"
"Are rules — real and perceived — keeping you from changing and growing? As a team? As an organization?"
Facing challenges
In any organization, negative forces may temporarily blow the team off track. Behar argues that values are what prevent us from creating self-made crises, and what guide us back on track if a crisis hits us anyway.
To create a value guidance system to help us stay true to our course, he says: "You need to listen to the voice that says, 'These are your values; this is who you are, this is what you stand for.' This voice of truth grounds you, your team, or an organization."
As a manager, here are three questions to help you do that:
"How do you deal with the crises that causes stress and anxiety? Can you use your one hat (i.e., purpose) to help you stay grounded and on course?"
"If you are facing a crisis… what steps can you take to stay true to your values? What decision(s) do you need to make? When and how will you make them?"
"Is success going to your head? How can you keep that excitement and not lose your sense of humbleness so you can stay focused on your larger purpose?"
Putting people first
The beauty of It's Not About the Coffee is how it simplifies the world of business to the values, practices, and aspirations that all of us share. It's about human beings and human relationships. And we repurpose what we've learned from our experiences — family life, work life, failures, and successes — to be better managers and better colleagues.
"As long as you know why you're here, as long as all of you together know why the organization exists, you'll get where you want to go," Behar says. That's the foundation of the success of Starbucks, and the success of any team.